Every now and then I love a good Non Fiction book and I seem to enjoy the books about our minds and how they work the most.  I've put together a list of 10 top picks to read about our minds from what I've read and what I want to read.  I'd love to hear what you thought of any of these books and share any other recommendations you may have.  All blurbs are from GoodReads.
Blink by Malcolm Gladwell
I thoroughly enjoyed Blink as many have and I can't recommned it highly enough.
"Blink is a book about how we think without thinking, about choices that seem to be made in an instant–in the blink of an eye–that actually aren't as simple as they seem. Why are some people brilliant decision makers, while others are consistently inept? Why do some people follow their instincts and win, while others end up stumbling into error? How do our brains really work-in the office, in the classroom, in the kitchen, and in the bedroom? And why are the best decisions often those that are impossible to explain to others?"  (GoodReads)
The Tipping Point by Malcolm Gladwell
Another of Gladwell's books which I found incredibly interesting.  Definitely a must read.
"The tipping point is that magic moment when an idea, trend, or social behavior crosses a threshold, tips, and spreads like wildfire. Just as a single sick person can start an epidemic of the flu, so too can a small but precisely targeted push cause a fashion trend, the popularity of a new product, or a drop in the crime rate. This widely acclaimed bestseller, in which Malcolm Gladwell explores and brilliantly illuminates the tipping point phenomenon, is already changing the way people throughout the world think about selling products and disseminating ideas.  Gladwell introduces us to the particular personality types who are natural pollinators of new ideas and trends, the people who create the phenomenon of word of mouth. He analyzes fashion trends, smoking, children's television, direct mail, and the early days of the American Revolution for clues about making ideas infectious, and visits a religious commune, a successful high-tech company, and one of the world's greatest salesmen to show how to start and sustain social epidemics."  (GoodReads)

The Psychopath Test by Jon Ronson
I loved this book!  Shocking and insightful, it'll have you looking at the world a bit differently.
"They say one out of every hundred people is a psychopath. You probably passed one on the street today. These are people who have no empathy, who are manipulative, deceitful, charming, seductive, and delusional. The Psychopath Test is the New York Times bestselling exploration of their world and the madness industry.  When Jon Ronson is drawn into an elaborate hoax played on some of the world's top scientists, his investigation leads him, unexpectedly, to psychopaths. He meets an influential psychologist who is convinced that many important business leaders and politicians are in fact high-flying, high-functioning psychopaths, and teaches Ronson how to spot them. Armed with these new abilities, Ronson meets a patient inside an asylum for the criminally insane who insists that he's sane, a mere run-of-the-mill troubled youth, not a psychopath—a claim that might be only manipulation, and a sign of his psychopathy. He spends time with a death-squad leader institutionalized for mortgage fraud, and with a legendary CEO who took joy in shutting down factories and firing people. He delves into the fascinating history of psychopathy diagnosis and treatments, from LSD-fueled days-long naked therapy sessions in prisons to attempts to understand serial killers."  (GoodReads)
Quiet by Susan Cain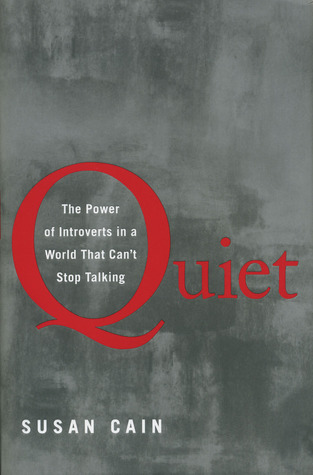 I've just finished this book and I found it personally extremely helpful and self-affirming.
"At least one-third of the people we know are introverts. They are the ones who prefer listening to speaking, reading to partying; who innovate and create but dislike self-promotion; who favor working on their own over brainstorming in teams. Although they are often labeled "quiet," it is to introverts that we owe many of the great contributions to society–from van Gogh's sunflowers to the invention of the personal computer.  Passionately argued, impressively researched, and filled with indelible stories of real people, Quiet shows how dramatically we undervalue introverts, and how much we lose in doing so. Taking the reader on a journey from Dale Carnegie's birthplace to Harvard Business School, from a Tony Robbins seminar to an evangelical megachurch, Susan Cain charts the rise of the Extrovert Ideal in the twentieth century and explores its far-reaching effects. She talks to Asian-American students who feel alienated from the brash, backslapping atmosphere of American schools. She questions the dominant values of American business culture, where forced collaboration can stand in the way of innovation, and where the leadership potential of introverts is often overlooked. And she draws on cutting-edge research in psychology and neuroscience to reveal the surprising differences between extroverts and introverts."  (GoodReads)
How the Mind Works by Steven Pinker
"In this extraordinary bestseller, Steven Pinker, one of the world's leading cognitive scientists, does for the rest of the mind what he did for language in his 1994 book, The Language Instinct. He explains what the mind is, how it evolved, and how it allows us to see, think, feel, laugh, interact, enjoy the arts, and ponder the mysteries of life. And he does it with the wit that prompted Mark Ridley to write in the New York Times Book Review, "No other science writer makes me laugh so much. . . . [Pinker] deserves the superlatives that are lavished on him." The arguments in the book are as bold as its title. Pinker rehabilitates some unfashionable ideas, such as that the mind is a computer and that human nature was shaped by natural selection, and challenges fashionable ones, such as that passionate emotions are irrational, that parents socialize their children, and that nature is good and modern society corrupting."  (GoodReads)
The Power of Habit by Charles Duhigg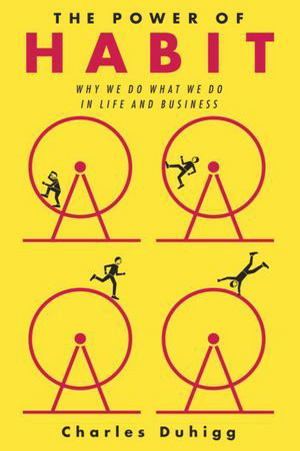 "In The Power of Habit, award-winning New York Times business reporter Charles Duhigg takes us to the thrilling edge of scientific discoveries that explain why habits exist and how they can be changed. With penetrating intelligence and an ability to distill vast amounts of information into engrossing narratives, Duhigg brings to life a whole new understanding of human nature and its potential for transformation.  Along the way we learn why some people and companies struggle to change, despite years of trying, while others seem to remake themselves overnight. We visit laboratories where neuroscientists explore how habits work and where, exactly, they reside in our brains. We discover how the right habits were crucial to the success of Olympic swimmer Michael Phelps, Starbucks CEO Howard Schultz, and civil-rights hero Martin Luther King, Jr. We go inside Procter & Gamble, Target superstores, Rick Warren's Saddleback Church, NFL locker rooms, and the nation's largest hospitals and see how implementing so-called keystone habits can earn billions and mean the difference between failure and success, life and death.  At its core, The Power of Habit contains an exhilarating argument: The key to exercising regularly, losing weight, raising exceptional children, becoming more productive, building revolutionary companies and social movements, and achieving success is understanding how habits work."  (GoodReads)
Thinking Fast and Slow by Daniel Kahnman
"In the highly anticipated Thinking, Fast and Slow, Kahneman takes us on a groundbreaking tour of the mind and explains the two systems that drive the way we think. System 1 is fast, intuitive, and emotional; System 2 is slower, more deliberative, and more logical. Kahneman exposes the extraordinary capabilities—and also the faults and biases—of fast thinking, and reveals the pervasive influence of intuitive impressions on our thoughts and behavior. The impact of loss aversion and overconfidence on corporate strategies, the difficulties of predicting what will make us happy in the future, the challenges of properly framing risks at work and at home, the profound effect of cognitive biases on everything from playing the stock market to planning the next vacation—each of these can be understood only by knowing how the two systems work together to shape our judgments and decisions.  Engaging the reader in a lively conversation about how we think, Kahneman reveals where we can and cannot trust our intuitions and how we can tap into the benefits of slow thinking. He offers practical and enlightening insights into how choices are made in both our business and our personal lives—and how we can use different techniques to guard against the mental glitches that often get us into trouble. Thinking, Fast and Slow will transform the way you think about thinking."  (GoodReads)
The Future of the Mind by Michio Kaku
"For the first time in history, the secrets of the living brain are being revealed by a battery of high tech brain scans devised by physicists. Now what was once solely the province of science fiction has become a startling reality. Recording memories, telepathy, videotaping our dreams, mind control, avatars, and telekinesis are not only possible; they already exist.  The Future of the Mind gives us an authoritative and compelling look at the astonishing research being done in top laboratories around the world—all based on the latest advancements in neuroscience and physics. One day we might have a "smart pill" that can enhance our cognition; be able to upload our brain to a computer, neuron for neuron; send thoughts and emotions around the world on a "brain-net"; control computers and robots with our mind; push the very limits of immortality; and perhaps even send our consciousness across the universe.   Dr. Kaku takes us on a grand tour of what the future might hold, giving us not only a solid sense of how the brain functions but also how these technologies will change our daily lives. He even presents a radically new way to think about "consciousness" and applies it to provide fresh insight into mental illness, artificial intelligence and alien consciousness.  With Dr. Kaku's deep understanding of modern science and keen eye for future developments, The Future of the Mind is a scientific tour de force–an extraordinary, mind-boggling exploration of the frontiers of neuroscience."  (GoodReads)
The Optimism Bias by Tali Sharot
"From one of the most innovative neuroscientists at work today, an investigation into the bias toward optimism that exists on a neural level in our brains and plays a major part in determining how we live our lives.  Psychologists have long been aware that most people maintain an often irrationally positive outlook on life. In fact, optimism may be crucial to our existence. Tali Sharot's experiments, research, and findings in cognitive science have contributed to an increased understanding of the biological basis of optimism. In this fascinating exploration, she takes an in-depth, clarifying look at how the brain generates hope and what happens when it fails; how the brains of optimists and pessimists differ; why we are terrible at predicting what will make us happy; how emotions strengthen our ability to recollect; how anticipation and dread affect us; and how our optimistic illusions affect our financial, professional, and emotional decisions. With its cutting-edge science and its wide-ranging and accessible narrative, The Optimism Bias provides us with startling new insight into the workings of the brain."  (GoodReads)
Sleights of the Mind by Stephen Macknik
"This book doesn't just promise to change the way you think about sleight of hand and David Copperfield—it will also change the way you think about the mind." —Jonah Lehrer, author of How We Decide and Proust Was A Neuroscientist
"Stephen Macknik and Susana Martinez-Conde, the founders of the exciting new discipline of neuromagic, have convinced some of the world's greatest magicians to allow scientists to study their techniques for tricking the brain. This book is the result of the authors' yearlong, world-wide exploration of magic and how its principles apply to our behavior. Magic tricks fool us because humans have hardwired processes of attention and awareness that are hackable—a good magician uses your mind's own intrinsic properties against you in a form of mental jujitsu.  Now magic can reveal how our brains work in everyday situations. For instance, if you've ever bought an expensive item you'd sworn you'd never buy, the salesperson was probably a master at creating the "illusion of choice," a core technique of magic. The implications of neuromagic go beyond illuminating our behavior; early research points to new approaches for everything from the diagnosis of autism to marketing techniques and education. Sleights of Mind makes neuroscience fun and accessible by unveiling the key connections between magic and the mind."  (GoodReads)
Save