I'm pretty sure that by now there is not a bookworm in the blogosphere that hasn't heard of Paula Hawkins' debut novel The Girl on the Train.  Many have read and reviewed her book already and I'm not just jumping on the bandwagon here because for those interested in crime genre novels the blurb is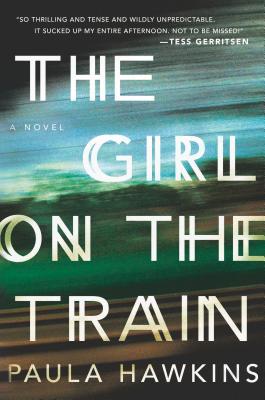 quite intriguing.  Have a quick look for yourself:
"Rachel takes the same commuter train every morning. Every day she rattles down the track, flashes past a stretch of cozy suburban homes, and stops at the signal that allows her to daily watch the same couple breakfasting on their deck. She's even started to feel like she knows them. "Jess and Jason," she calls them. Their life—as she sees it—is perfect. Not unlike the life she recently lost.  And then she sees something shocking. It's only a minute until the train moves on, but it's enough. Now everything's changed. Unable to keep it to herself, Rachel offers what she knows to the police, and becomes inextricably entwined in what happens next, as well as in the lives of everyone involved. Has she done more harm than good?" (GoodReads)
I, too, find myself watching people and wondering what their lives are like so I was already taken in.  Hawkins has written a great book and all her characters are well fleshed real people.  I noticed that some didn't enjoy the book because they felt the characters were all 'hot messes'.  I enjoyed it precisely because they are all hot messes and to be honest all people are in some way.  This is what makes The Girl on the Train a great read.  Hawkins writes the inner worlds of the women with such skill that you really do feel you know them, you connect with them (or at least understand them), and you feel their pain and insecurities.  Put all this together and it makes for a fabulous whodunnit because it really could be anyone.  They are all the unreliable narrator.  Switching between the perspectives of the three women the story unfolds and we piece together the events of the night of the disappearance of one of them.  I enjoyed reading it and I had no clue what had happened until the moment Hawkins wants you to know what happened.  It is well written and well structured.  It was definitely one of the better books I've read this year and I'll be looking out for Hawkins' next book without doubt.  This is not a procedure crime novel.  This is a crime novel where the people and their characters take centre stage.  It'll make you wonder how well you really know the people closest to you and that is the best kind of psychological thriller.