The NBCC finalists for the 2014 publishing year were announced in January and the winner will be announced on 12 March.  The list of finalists is an interesting one with all 5 novels looking very enticing.  
For your perusal, here are the 5 fiction finalists for 2014:
An Unnecessary Woman by Rabih Alameddine
Aaliya Sohbi lives alone in her Beirut apartment, surrounded by stockpiles of books.
Godless, fatherless, divorced, and childless, Aaliya is her family's "unnecessary appendage." Every year, she translates a new favourite book into Arabic, then stows it away. The thirty-seven books that Aaliya has translated have never been read—by anyone. After overhearing her neighbours, "the three witches," discussing her too-white hair, Aaliya accidentally dyes her hair too blue.  In this breathtaking portrait of a reclusive woman's late-life crisis, readers follow Aaliya's digressive mind as it ricochets across visions of past and present Beirut. Insightful musings on literature, philosophy, and art are invaded by memories of the Lebanese Civil War and Aaliya's volatile past. As she tries to overcome her aging body and spontaneous emotional upwellings, Aaliya is faced with an unthinkable disaster that threatens to shatter the little life she has left.  A love letter to literature and its power to define who we are, the gifted Rabih Alameddine has given us a nuanced rendering of a single woman's reclusive life in the Middle East. (GoodReads)
A Brief History of Seven Killings by Marlon James
On December 3, 1976, just before the Jamaican general election and two days before Bob
Marley was to play the Smile Jamaica Concert, gunmen stormed his house, machine guns blazing. The attack nearly killed the Reggae superstar, his wife, and his manager, and injured several others. Marley would go on to perform at the free concert on December 5, but he left the country the next day, not to return for two years.  Deftly spanning decades and continents and peopled with a wide range of characters—assassins, journalists, drug dealers, and even ghosts—A Brief History of Seven Killings is the fictional exploration of that dangerous and unstable time and its bloody aftermath, from the streets and slums of Kingston in the 70s, to the crack wars in 80s New York, to a radically altered Jamaica in the 90s. Brilliantly inventive and stunningly ambitious, this novel is a revealing modern epic that will secure Marlon James' place among the great literary talents of his generation. (GoodReads)
Euphoria by Lily King
National best-selling and award-winning author Lily King's new novel is the story of three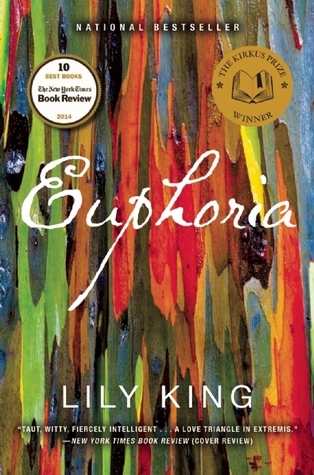 young, gifted anthropologists in the 1930s caught in a passionate love triangle that threatens their bonds, their careers, and, ultimately, their lives.  English anthropologist Andrew Bankson has been alone in the field for several years, studying a tribe on the Sepik River in the Territory of New Guinea with little success. Increasingly frustrated and isolated by his research, Bankson is on the verge of suicide when he encounters the famous and controversial Nell Stone and her wry, mercurial Australian husband Fen. Bankson is enthralled by the magnetic couple whose eager attentions pull him back from the brink of despair.   Nell and Fen have their own reasons for befriending Bankson. Emotionally and physically raw from studying the bloodthirsty Mumbanyo tribe, the couple is hungry for a new discovery. But when Bankson leads them to the artistic, female-dominated Tam, he ignites an intellectual and emotional firestorm between the three of them that burns out of anyone's control. Ultimately, their groundbreaking work will make history, but not without sacrifice.  Inspired by events in the life of revolutionary anthropologist Margaret Mead, Euphoria is a captivating story of desire, possession and discovery from one of our finest contemporary novelists. (GoodReads)
On Such A Full Sea by Chang-Rae Lee
In a future, long-declining America, society is strictly stratified by class. Long-abandoned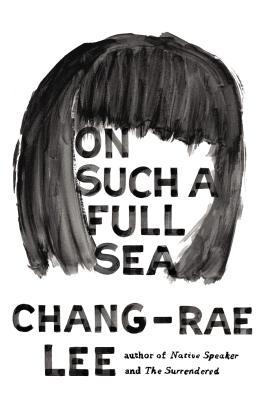 urban neighbourhoods have been repurposed as highwalled, self-contained labour colonies. And the members of the labour class—descendants of those brought over en masse many years earlier from environmentally ruined provincial China—find purpose and identity in their work to provide pristine produce and fish to the small, elite, satellite charter villages that ring the labour settlement.
In this world lives Fan, a female fish-tank diver, who leaves her home in the B-Mor settlement (once known as Baltimore), when the man she loves mysteriously disappears. Fan's journey to find him takes her out of the safety of B-Mor, through the anarchic Open Counties, where crime is rampant with scant governmental oversight, and to a faraway charter village, in a quest that will soon become legend to those she left behind.
On Such a Full Sea takes Chang-Rae Lee's elegance of prose, his masterly storytelling, and his long-standing interests in identity, culture, work, and love, and lifts them to a new plane. Stepping from the realistic and historical territories of his previous work, Lee brings us into a world created from scratch. Against a vividly imagined future America, Lee tells a stunning, surprising, and riveting story that will change the way readers think about the world they live in.  (GoodReads)
Lila by Marilynne Robinson
Lila, homeless and alone after years of roaming the countryside, steps inside a small-town
Iowa church—the only available shelter from the rain—and ignites a romance and a debate that will reshape her life. She becomes the wife of a minister, John Ames, and begins a new existence while trying to make sense of the days of suffering that preceded her newfound security.  Neglected as a toddler, Lila was rescued by Doll, a canny young drifter, and brought up by her in a hardscrabble childhood. Together they crafted a life on the run, living hand-to-mouth with nothing but their sisterly bond and a ragged blade to protect them. But despite bouts of petty violence and moments of desperation, their shared life is laced with moments of joy and love. When Lila arrives in Gilead, she struggles to harmonize the life of her makeshift family and their days of hardship with the gentle Christian worldview of her husband that paradoxically judges those she loves.  Revisiting the beloved characters and setting of Marilynne Robinson's Pulitzer Prize-winning Gilead and Home, a National Book Award Finalist, Lila is a moving expression of the mysteries of existence that is destined to become an American classic. (GoodReads)
Save