Let me start by sharing the blurb of Dark Places with you:
Libby Day was just seven years old when her evidence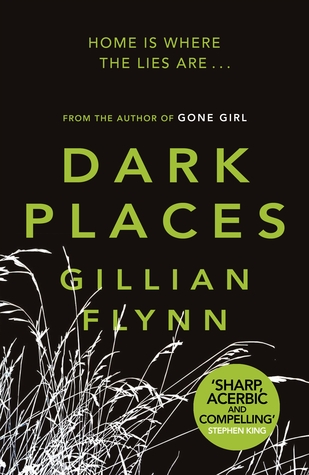 put her fifteen-year-old brother behind bars.  Since then, she has been drifting. But when she is contacted by a group who are convinced of Ben's innocence, Libby starts to ask questions she never dared to before. Was the voice she heard her brother's? Ben was a misfit in their small town, but was he capable of murder? Are there secrets to uncover at the family farm or is Libby deluding herself because she wants her brother back?  She begins to realise that everyone in her family had something to hide that day… especially Ben. Now, twenty-four years later, the truth is going to be even harder to find.  Who did massacre the Day family? (GoodReads)
Last year about this time I finished Gone Girl by Gillian Flynn.  I really enjoyed that novel just as I have enjoyed Dark Places and for more or less the same reason.  Flynn's characters are wonderfully flawed.  I enjoy the honesty in them, the cynicism, even their darkness.  Because the truth is we all have a bit of darkness in us in varying degrees.  The thing is, the darkness in us is what we tend to try and hide from others, I think.  Flynn let's us in on that by letting us into the heads of her characters and letting them think all those horrible thoughts that we may (or may not) chastise ourselves for and never really say out loud.  Nowadays, being politically correct is a big deal.  I'm not saying I'm all for being horrible and letting hurtful thoughts spill out of our mouths.  On the contrary.  But we have our moments and we aren't always likeable.  Neither are Flynn's characters and I like that.
I don't necessarily identify with Flynn's leading ladies sometimes but I do find them very interesting.  The major difference between Libby (Dark Places) and Amy (Gone Girl) is that Libby has evolution.  She still has some issues at the end but she's evolved and opened up through her experiences.  Amy does a whole lot of horrible stuff and remains, in my opinion, a pretty awful person.  But I liked following them both.  I think this is down to the way Flynn writes her books.  She has a knack of revealing circumstances that help you understand why they are 'bad' and sometimes stay that way.  That's a lot like real life for a lot of people, I think.
Gone Girl was such a clever book to me.  The way she revealed the story had me guessing until the end.  It was one of the better books I've read in the crime genre for that aspect.  Dark Places didn't have that aspect – I had a pretty good idea how it went down about three quarters of the way through so I can't say I found it as good as Gone Girl structurally but it was still a great story.  It was entertaining and I enjoyed it to the end.
Flynn is becoming a favourite of mine.  An author who you can count on for a good crime read, filled with great characters and good writing.  It is a good, entertaining read and I'll be moving on to the next book of hers I have yet to read – Sharp Objects.