All The Light We Cannot See was very popular this year and I wanted to see what all the fuss was about.  I wondered if I would enjoy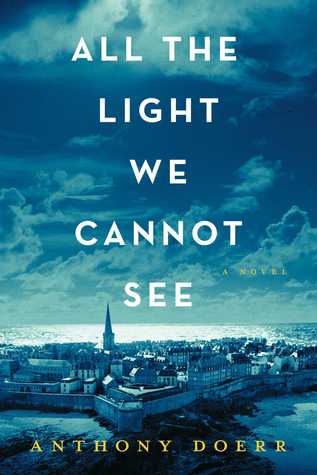 a book set in WW2 since I'm not really a fan of wartime fiction but I am very glad I gave it a chance.  I haven't read anything like this story before and it was quite a captivating read.
Here is the blurb from GoodReads:
"Marie Laure lives with her father in Paris within walking distance of the Museum of Natural History where he works as the master of the locks (there are thousands of locks in the museum). When she is six, she goes blind, and her father builds her a model of their neighborhood, every house, every manhole, so she can memorize it with her fingers and navigate the real streets with her feet and cane. When the Germans occupy Paris, father and daughter flee to Saint-Malo on the Brittany coast, where Marie-Laure's agoraphobic great uncle lives in a tall, narrow house by the sea wall.  In another world in Germany, an orphan boy, Werner, grows up with his younger sister, Jutta, both enchanted by a crude radio Werner finds. He becomes a master at building and fixing radios, a talent that wins him a place at an elite and brutal military academy and, ultimately, makes him a highly specialized tracker of the Resistance. Werner travels through the heart of Hitler Youth to the far-flung outskirts of Russia, and finally into Saint-Malo, where his path converges with Marie-Laure."
I was very taken by Marie Laure who has to navigate this terrifying time not only as a young girl but also blind.  This book has apparently been 10 years in the writing and I can see how the time spent on this novel has come to render a beautiful and full story.  I loved all the characters and felt the landscapes were described so vividly as if I too were blind.  I loved how all the stories came together in the end.  What a joy to read.  This book is fully deserving of its acclaim and is one of my favourite reads of 2014.