July's People was published in 1981 before the end of Apartheid in South Africa and tells the story of a fictional civil war as South Africa's cities become battlegrounds.  Here is the blurb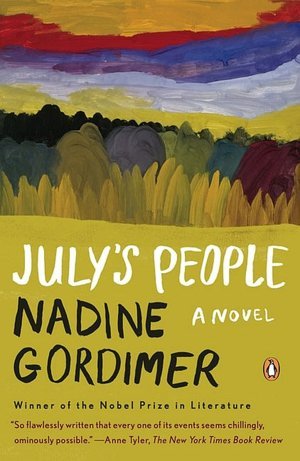 from GoodReads:
"For years, it had been what is called a "deteriorating situation." Now all over South Africa the cities are battlegrounds. The members of the Smales family—liberal whites—are rescued from the terror by their servant, July, who leads them to refuge in his village. What happens to the Smaleses and to July—the shifts in character and relationships—gives us an unforgettable look into the terrifying, tacit understandings and misunderstandings between blacks and whites."
Gordimer is a Nobel Prize for Literature laureate and I was expecting a lot from this book.  I was let down.   It is clear Gordimer is a fantastic writer.  The style she chose for this book, however, didn't work for me.  I can't put my finger on what exactly didn't feel right.  The dialogue often disrupted the flow for me as it sometimes wasn't immediately clear who was talking – there were descriptive paragraphs punctuated with bits of dialogue that indicated no particular speaker.
The Smales were people I could not connect with.   And though this book is said to deal with the misunderstandings between white and black people, which I thought was portrayed mostly through the relationship between Maureen and July, I found it just didn't go there.  I was looking for so much more but nothing really happened to anyone to provoke something meaningful.  I couldn't clearly see in Gordimer's telling of this story what she intended for us to take away from it because it ended terribly, in my opinion, with no real resolution.
I did not quit reading this short book is for two reasons; she really is a good writer, and I wanted to know how it ended.  Despite my disappointment I will still be giving her other books a read in the hopes of finding something I like because, as I've said, Gordimer has a way with words, she does draw your attention to certain truths but in this case it just wasn't enough to tie everything together well enough for me in this book.  People feel differently about this novel so I would say if you're dying to read it – go ahead.  It's short so you won't need much time before you know if it's for you or not.  Sadly, this one's not for me.